Weaving month: getting started
Welcome to the Cosy Craft Club's weaving month! We really want to encourage you to have a go at weaving yourself, and we'll be sharing the key things you need to know to get started. You can find all our weaving posts in one place here.
Hopefully, you've read our last post and you now have everything you need to have a go at weaving. In this post we'll look at how to actually get weaving!
The first thing you'll need to do is warp up your loom, which is basically running your cotton warp thread up and down so you end up with vertical lines of the thread. This article from The Weaving Loom will tell you how to do that.
Now you're ready to start weaving! This is the fun bit.
The basic weave is the tabby stitch, where you thread your weft material (such as yarn) above and below alternate warp threads in a horizontal line. Then on the next row, go back in the opposite direction and do the same but with the opposite threads, so that the thread your weft was below last time, now has the weft above it, and vice versa. Use your beater to push the two lines together and make them straight. Voila, you are weaving!
By changing the colour or material of your weft after a few rows, you can easily make stripes. Or stop partway along a row and reverse to create shapes and blocks of colour. And then, when you want to explore further, you can try different stitches and fringes!
I am aware that I haven't gone into much detail here, but there are some great online resources which will make it all much more clear…
Photo via Squid Ink Co
The Weaving Loom - if you only use one resource, let this be the one. It'll teach you everything you need to know about weaving, and more! My job is basically done for me, with this beginner's guide to weaving. So you don't really need to read any more…
The Weaving Loom also has a great library of weaving stitches and techniques, which you can use to learn new skills, and there is a weavealong that you can follow to learn some of the key techniques and create a lovely lacey wall hanging in the process.
Hello Hydrangea - another great website with free tutorials. But if you want a bit more hand holding, you can purchase online classes to really get you going. Hello Hydrangea also does a monthly subscription with different designs and techniques sent to you every month, if you've really caught the weaving bug!
There are some great videos on YouTube to get you started if you prefer to watch rather than read, such as this series from Creativebug, or this one from Herioc Acorn (thanks to Anita from By Bella Designs and Stephanie from Le Petit Moose for the tips)
Or if you prefer to buy a book that you can go back to frequently, Stephanie from Le Petit Moose recommends 'Welcome to Weaving' by Lindsey Campbell and 'On the Loom: A Modern Weavers Guide' by Maryanne Moodie.
I'm also part of a Facebook group called "Welcome To Weaving: Modern Weaving Community Group". The group is great for getting inspiration, getting hints and tips and also sharing your makes. - Natasha from Natasha Emily Weavings
Photo via Le Petit Moose
Once you've mastered the basics, you might need a bit of inspiration to help you in your weaving. Instagram and Pinterest are the obvious first ports of call, so that you can see what other people have done.
I asked some lovely weavers where they go to for inspiration:
My main source of inspiration comes from my travels. The cultural scene and vibrant energy I discovered in New Orleans has had a great influence on my work recently. - Jennifer from Wandering Coast Collective
A brilliant resource, especially for colour inspiration, is Pinterest. It is always a good idea to set up a Pinterest board for your favourite colour schemes so you can find inspiration if you get stuck for a colour palette! - Kat from Weave and Pom
Simple image searches around topics that excite you are probably the best way to spark ideas. I love architecture, travel photography, textiles, home interiors to name a few but maybe you're a fan of modern art or fashion? - Anita from By Bella Designs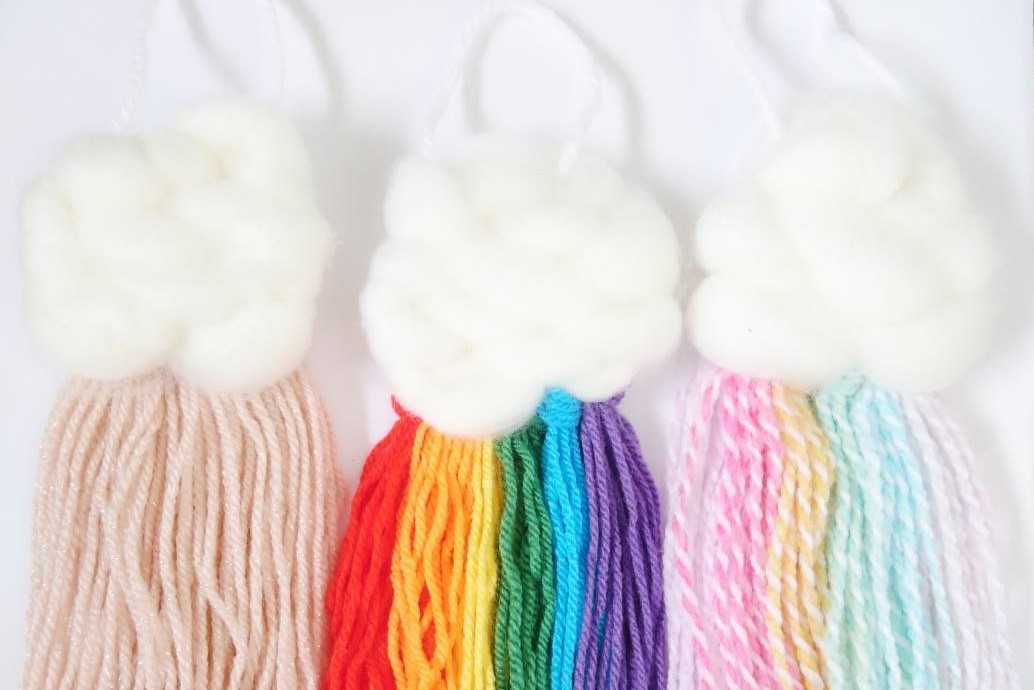 Photo via Weave and Pom
Woven wall hangings are really popular at the moment, and are a great way to get started because there is very little you need to add to your weaving to finish it off. And you don't have to be limited to a rectangle - you can make a circular weaving from an embroidery hoop, or buy weaving frames in all different shapes - check out By Bella Designs for some unusual shapes to weave on.
But don't feel the need to stick to wall hangings - I was surprised at how many other things you can make by weaving.
The Weaving Loom has a lovely article with some simple things you can make for the home, such as a coaster or a curtain tie . A Beautiful Mess has some great weaving project ideas too, such as a mat, necklace or scarf. Other ideas that I've come across include cushion covers or even a clutch bag! Your imagination (and possibly your sewing skills) are your only limits here!
I hope this has inspired you to give weaving a go! If you do, please let me know how you got on - I'd love to hear from you!
Rachel x